Meet The High Street Store That Is Nailing Modern Bridal Fashion
It's not often you find everything you need in one place. From searching for a wedding dress to debating bridesmaid styles with your friends and choosing sweet outfits for your page boys and flower girls, wedding planning sometimes feels like a set of overwhelming decisions, especially for modern women with busy lives. That's why Monsoon's Wedding Boutique is the answer you've been looking for. Dresses, accessories and numerous looks for your bridal party, all tied perfectly together by artisan designs, quality fabrics, hand-embellishments and (most importantly!) amazingly affordable prices. Whether you're a traditional bride looking for classic styles or a contemporary-chic woman wanting something different, Monsoon has got you covered.
Wedding Dresses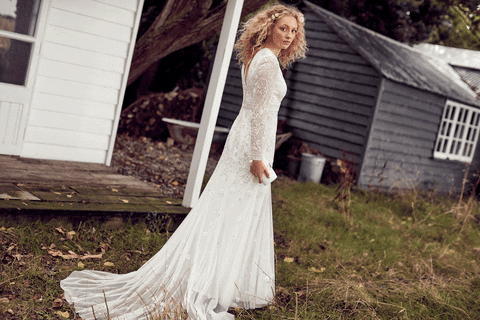 Monsoon's bridal collection includes every look you could want. A classic bride might fall in love with the 'Sophie', an elegantly feminine design perfect for a traditional day. We also love the lace 'Beatrice' style for a boho celebration, the '50s-style 'Irina' for a registry, the off-the-shoulder 'Grace' for a city-chic day and the hand-sequined 'Diana' or vintage-inspired 'Helena' for an evening do. Monsoon's Meghan-Markle-chic 'Anne' is perfect for anyone who fell in love with the Duchess' understated wedding reception style. And super-contemporary brides should be sure to check out Monsoon's bridal separates for something a little more unique. No matter the vibe of your wedding, this modern bridal fashion brand has something that's just right. And with dresses under £500, you won't believe your luck.
Bridal Accessories
Next up? Your accessories. Women today are busy, constantly juggling a hundred things at once, so it's a dream come true when you can find the perfect pair of shoes to go with your wedding dress in the same place you bought it! Bejewelled, ribboned, coloured, mid-heel, high-heeled, even wedges… there's something for every bride, whatever your style. We love a blush or embellished shoe to bring some sparkle to your big-day look. Browse the full collection here.
If you're a bride who wants to keep some essentials on-hand during the day, you can also find something lovely to carry them in (psst... our favourite is most definitely the 'I do' clutch!).
The best thing about Monsoon's bridal accessories is that they're designed to complement the beautiful wedding dresses, so you need not worry about a fashion clash.
Bridesmaids
You can please every member of your bridal party with dresses from Monsoon's bridesmaid collection. There are many stunning outfits available, but, most importantly, you can buy dresses in different colours or one of the brand's multi-way styles in order to ensure all your girls feel comfortable and look their best on the day. Modern bridal calls for a fashion-forward choice or two, so take a look at the jumpsuits or trousers if you're keen to keep your bride tribe looking cool.
Flower Girls and Page Boys
Don't forget the littlest members of your bridal squad. Make it a wonderful wedding with flower girl dresses from Monsoon Children. Beautifully crafted with premium satins, delicate lace and sparkling embellishments, these enchanting styles will put her among the best-dressed members of the bridal party. Choose pretty shades of pink, ivory and blue in designs for both girls and baby, with layers of swishy tulle and flower corsages. The fairy-like 'Estella' dress, for example, will have everyone saying 'aww' before you've even got down the aisle!
Next, smarten up the little man on your wedding day in one of Monsoon's lovely page-boy outfits. Choose from the delightfully dapper suit sets, complete with blazers, trousers and waistcoats, as well as crisp cotton shirts and patterned ties. Stick to black tuxedos for a classic look, or else opt for shades of navy, grey and royal blue as a modern alternative.
Even Your Make-up
Be sure to look out for Monsoon's amazing in-store events with cult beauty brand Bobbi Brown. Guests will be given an individual session with one of Monsoon's brilliant personal shoppers, followed by an hour-long consultation with bridal make-up experts from Bobbi Brown. And, of course, no dream bridal appointment would be complete without a complimentary glass of prosecco, an exclusive discount and a goodie bag filled with treats! Once again, Monsoon meets the needs of contemporary brides by bringing everything you need into one groundbreaking store.
To spend a fabulous afternoon with Monsoon's bridal personal shoppers and Bobbi Brown's beauty experts at one of Monsoon's personal shopping stores in Kingston, Marble Arch, Westfield Stratford, Birmingham, Newcastle or Glasgow on Saturday 23 or Sunday 24 February, book your tickets here.
Discover more from Monsoon's Wedding Boutique in the gallery below, at monsoon.co.uk.
Monsoon is giving one lucky shopper the chance to win a £500 voucher. To find out more and enter the competition, click here.